Two Omagh Catholic grammar schools in bid to end academic selection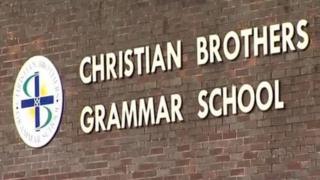 Two Catholic grammar schools in County Tyrone are planning to remove the use of academic selection for their year eight intake.
Omagh Christian Brothers' School and Loreto Grammar, Omagh are to propose the change to the Education Authority.
They want the move on a phased basis from September 2017 "or as soon as possible".
A period of statutory consultation would begin once the development proposal was published.
The schools said the statements would be published "with a view" that they "will have a totally non-academically selective intake by September 2020, or as soon as possible thereafter".
They said that during the period of consultation there would "be further opportunities for the school stakeholders, and the wider community, to express their views on the proposal, before a decision is made by the Minister for Education".
Northern Ireland's Department of Education has attempted to end academic selection. The last official 11-plus test in Northern Ireland was held in 2008.
However, for a number of years, many grammar schools have used unregulated transfer tests to select pupils.
There are two unofficial replacement systems for the 11-plus in operation.
GL Assessment is used mostly for Catholic schools and the AQE (Association of Quality Education) sets a different exam for the other schools.