James McDonagh: Hundreds attend murder victim's funeral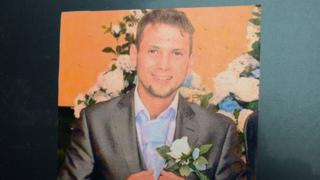 Hundreds of people have attended the funeral of James McDonagh, who died after being assaulted outside a bar in Toomebridge last Sunday morning.
Mr McDonagh, 28, known as Jim, died in hospital on Monday from head injuries. He came from a travelling background and was married with two young sons.
Earlier, a woman held in connection with his murder was released on bail.
Father Paul Byrne told the congregation at Sunday's funeral in Coalisland that Mr McDonagh's life had ended too soon.
He said mourners had gathered in "dismay and sadness, even in a state of shock and anger".
"His young life [was] cut so short in tragic circumstances that should have been and could have been avoided," Fr Byrne added.
"Life is precious, too precious to be cast aside so easily, so vicariously."
Many cars and vans belonging to those attending the funeral were decorated with pictures of Mr McDonagh.
The 33-year-woman who was released on bail in connection with his death had been detained in Banbridge, County Down, on Saturday morning and was questioned on suspicion of withholding information.
A 24-year-old man appeared in court on Thursday charged with murder.