Castlewellan, County Down: Prayer service held for Ellen Finnegan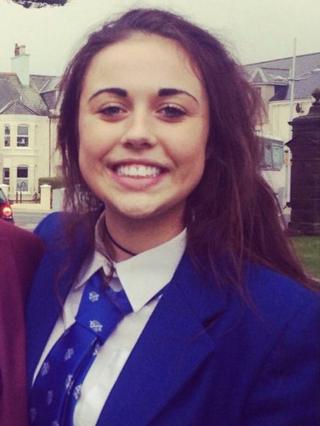 A special prayer service has been held in County Down on Sunday afternoon for Ellen Finnegan, who died in a fire at her flat in Castlewellan on Saturday.
The blaze broke out in the bedroom of the flat in Lower Square in the town at about 04:00 GMT on Saturday.
Despite efforts by paramedics to revive her, 19-year-old Ms Finnegan died at the scene.
She died on the third anniversary of her mother's death. The fire was in the flat above her father's butcher's shop.
Ellen, a pupil at Assumption Grammar School in Ballynahinch, had just be offered a place at Liverpool University.
Tragic
Father Conor McCarthy, who led the prayer service at Ellen's school, said the community was stunned by her death.
"To have such a tragedy occur, is really heart-stopping and it stops everyone in their tracks," he said.
"There's very little sense that we can make of such a tragedy, Ellen having been so young and to have died so suddenly and in such a tragic fashion.
"We can't make sense of it, but we can just be with one another and be assured of the presence of the Holy Spirit accompanying us at this very difficult time."
Assumption Grammar School is arranging counselling for current and former pupils affected by Ellen's death.
Close-knit
Twenty-two firefighters worked to bring the blaze under control.
Max Joyce, from the fire service, said it is not yet clear what caused the fire.
"The first thing I would like to do is pass condolences to the family - it's a tragedy for the family and a tragedy for Castlewellan, which is such a close-knit community," he said.
"Essentially the blaze itself was contained to a bedroom just over the butcher's and there was a fair bit of heat coming off it.
"Our breathing apparatus teams fought their way through to get to the young girl."
He appealed for anyone who does not have a smoke alarm in their home to get one as soon as possible.
Family
Margaret Ritchie, the MP for the area, said: "This tragedy will have a profound impact on the entire community.
"It is difficult for most of us to contemplate the grief that is now being felt by this young woman's family and friends, but on behalf of myself and all the people of south Down I would like to extend our deepest condolences to them at this most difficult time."
Sinn Féin MLA Chris Hazzard said it was a heartbreaking tragedy for Ellen's family and friends.
"Ellen comes from a well-known and well established family in the local community," he said.
"Her father Bartley runs a longstanding family butchers in the town.
"I extend my heartfelt condolences and those of my party to Ellen's family and friends at this tragic time."