Hightown waste incinerator: Planning permission decision to be reviewed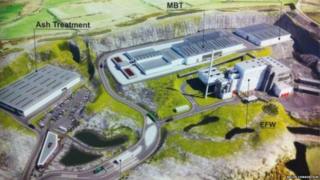 The decision to refuse planning permission for a controversial waste incinerator on the outskirts of Belfast is to be reviewed.
Environment Minister Mark Durkan turned down the application in September on the grounds that it could discourage recycling and impact on human health.
The £240m facility at a former quarry in Newtownabbey was to have dealt with black bin waste from six super councils.
Now it has emerged that the decision will be looked at again by the Planning Appeals Commission.
Opponents to the incinerator plan say they are disappointed by the decision.
Colin Buick, chairperson of community group NoArc21, said: "With this appeal comes further expense to the public purse, a public which has shown in its thousands objections to the proposed Hightown incinerator."
Antrim and Newtownabbey Council is part of the ARC 21 consortium behind the waste incinerator, but opposes the current appeal.
It said the decision to proceed with any future appeal remains subject "to the approval of the six councils which comprise Arc 21".
It has not been consulted about any appeal.
ARC 21 said it would ensure that "the appropriate democratic decision-making process with its constituent councils" would be followed.
The outcome of the appeal is not binding on the minister.
The Department of the Environment is being abolished as part of a re-organisation of executive departments.
Strategic planning will be a matter for the new Department of Infrastructure.
It is likely that its minister will have the final say.