Mistaken identity: 'Secret agent's' uncanny likeness to Gerry Adams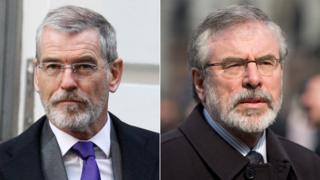 The actor Pierce Brosnan has been seen in London sporting a white beard and greying hair during filming of a new action thriller.
He was also wearing glasses and was suited and booted like a politician.
So far, so ordinary, but his uncanny likeness to one of Northern Ireland's best-known politicians has not gone unnoticed.
Mr Brosnan was photographed bearing a striking resemblance to the Sinn Féin President Gerry Adams.
The Irish-born actor is currently filming in the capital for the thriller based on Stephen Leather's novel, The Chinaman.
He is playing the role of Liam Hennessy, a former IRA member turned government official.
Mr Brosnan is staring opposite Jackie Chan in the untitled Martin Campbell project.
It is not the actor's first time working with Mr Campbell. The star was directed by Mr Campbell in his Bond debut, Goldeneye in 1994.
They say imitation is the sincerest form of flattery, and Mr Adams showed a sense of humour by tweeting: "I never knew Pierce Brosnan was so good looking."