County Antrim pensioner lost £200,000 to scammers says daughter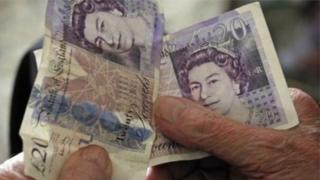 A County Antrim pensioner has lost £200,000 to scammers, according to his daughter.
The man, in his 80s, was conned out of the money after cold callers phoned his home offering him a series of bogus investments.
The family said they had gone public about his loss to warn others with elderly parents to be vigilant.
The man parted with his life's savings after he was contacted by people using high pressure sales tactics.
They offered him a large return on investments in wine and property that turned out to be bogus.
The man's daughter Laura, who asked for her surname not to be used to save her father from further embarrassment, described how she discovered his money was missing.
"There were a couple of bank statements that dad had lying around the living room. We were able to go through bank statements and saw some very large cheques and sums of money being taken out," she said.
"We realised there was an amount of £15,000 going out to a wine company which we thought was very odd. We knew he had some money to invest, but not that amount, so it rang alarm bells that someone might be conning him."
Asked how much her father had lost to scammers, she said: "Probably a couple of hundred thousand pounds. That is a lot. We didn't even know he had that amount of money."
A large amount of the money went on a commodity called carbon credits. These can be traded for money but the market is not generally accessible to small investors.
Promises
While they do exist as a legitimate form of investment, there are concerns an increasing numbers of conmen are using carbon credits as a way of targeting their victims.
In spite of promises they have been given, many investors have told the Financial Conduct Authority (FCA) that they are unable to sell or trade them and have lost money.
Mark Francis, FCA, said people should avoid them.
"Carbon credit schemes are generally unregulated investment schemes, in most cases. So if people do invest in them, it can be difficult to get any money back if things go wrong," he added.
"These are an unregulated investment, generally, and, we would say, one that carries with it some risk, and we suspect that many of these type of investments are, in fact, scams."
Laura said the family contacted the police but they were unable to retrieve the money.
"We got local police involved. Some of the wine companies were based in London. We got the city of London police involved but they are swamped," she said.
"They may still try to track them down. We have not heard much back, which is a shame. So you have no immediate help. It is really up to you as a family member to stop it, to stop the money going out and the telephone calls coming in."