'Special measures' set for NI's professional teaching body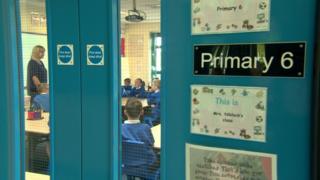 The education department is introducing a number of "special measures" to the running of Northern Ireland's professional body for teachers.
In a letter to the General Teaching Council for Northern Ireland (GTCNI) seen by the BBC, the department said there are "ongoing governance and staffing issues" in the organisation.
It also refers to a number of "ongoing grievance cases" involving GTCNI staff.
The GTCNI is responsible for the registration of teachers.
It also has power to decide if a teacher should keep their job in the event of misconduct.
Frontline
All teachers must be registered with the GTCNI to teach in Northern Ireland, and pay an annual fee of £44.
Around 27,000 teachers are registered with the organisation, and in 2013-14 it had an income of more than £1.1m.
It has 19 staff, headed by the current registrar Dr Carmel Gallagher, and a 33-member council.
An independent review in 2015, also seen by the BBC, identified "a lack of trust" between members of the council and senior management.
That review also said "frontline teachers struggle to find a relevance to the body", and recommended the council board should be reduced to "10 to 12 members".
Confident
Subsequently, the department wrote to Ivan Arbuthnot, the chair of the GTCNI, the registrar and council.
The letter said "a number of special measures should be put in place to strengthen the current governance".
They include:
Monthly meetings between the department, the registrar and the chair;
The presence of a departmental representative at all council meetings.
In a statement, Dr Gallagher said she welcomed more frequent meetings with the department.
"Teachers can be confident that there will be no reduction on GTCNI's ability to carry out its registration, regulatory and advisory functions," she said.
"GTCNI is currently on track for achieving over 90% of its targets in 2015-16 and commands the support of the teachers' unions, all of which are represented on the council."
Judged
But Justin McCamphill, of the National Association of Schoolmasters and Union of Women Teachers, said the GTCNI was "not fit for purpose" and was "dysfunctional."
"It's trying to present itself as the voice of teachers, but the actual teachers' voice isn't being heard," he said.
He expressed concern that it was moving beyond its core functions, especially by seeking to introduce new professional competences for teachers.
"It's these which are going to be the measure against which teachers are going to be judged in future," he said.
"We have issues around people being employed to develop competences that, quite frankly, are not needed.
"Teachers themselves don't see any value in what they're getting for their £44."