Robert Black: Convicted child killer dies in prison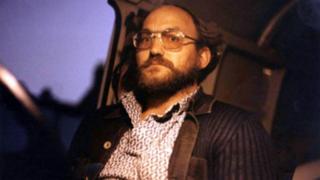 The child killer Robert Black, who was convicted of the murders of four children from across the UK in the 1980s, has died in prison.
Black, 68, had a history of abducting, abusing and murdering young girls.
His victims were Jennifer Cardy, nine, of County Antrim, Sarah Harper, 10, of Leeds, Susan Maxwell, 11, of Northumberland, and Caroline Hogg, five, of Edinburgh.
Black died of natural causes in Maghaberry prison, Northern Ireland.
In a statement, the Northern Ireland Prison Service confirmed that a "68-year-old prisoner" had died at the high-security jail in County Antrim.
"While this is not being treated as suspicious, the Prison Service has informed the Police Service of Northern Ireland (PSNI), Coroner, and Prisoner Ombudsman," the statement added.
"It would not be appropriate to comment further at this time."
Black, originally from Grangemouth, Stirlingshire, was a predatory paedophile with a long criminal record of sexually abusing young girls.
In 1963, when he was 16, he abused a seven-year-old girl in a disused air shelter near his then home in Greenock near Glasgow.
When he was 19, he was convicted of indecently assaulting the young daughter of the family he had been lodging with.
Jennifer Cardy's killing was the first murder that he was known to have carried out, but it was the last one of which he was convicted.
Black's job as a delivery driver meant he travelled widely across the UK and, at the time, he was in Northern Ireland driving for a London-based poster company.
His nine-year-old victim was cycling to a friend's house near her home in Ballinderry, County Antrim, on 12 August 1981 when Black abducted and sexually assaulted Jennifer, before dumping her body in a dam.
'A lost cause to humanity'
In 2011, the police officer who led the Jennifer Cardy murder inquiry described Robert Black as "a lost cause to humanity".
Det Supt Raymond Murray said "good, old-fashioned police work" had solved one of the longest police investigations ever conducted in Northern Ireland.
"It was trawling through literally tons of material and checking every minute aspect to pull together all the pieces of this jigsaw from many parts of the UK," he added.
The following year, Black abducted and murdered 11-year-old Susan Maxwell, who had been walking to her home in Cornhill on-Tweed, Northumberland.
In 1983, five-year-old Caroline Hogg disappeared from outside her home in Portobello, Edinburgh, and was later found dead in a ditch in Leicestershire.
Three years later, Black abducted 10-year-old Sarah Harper as she walked from a corner shop near her home in Morley, Leeds.
Sarah's body was later discovered in the River Trent in Nottingham.
Rescue
Black was eventually arrested in 1990, when police stopped his van and found a six-year-old girl bound and gagged in the back of his vehicle.
The child, who had been kidnapped from a village in the Scottish Borders, was rescued by police but the case led detectives to Black's previous victims.
In 1994, Black was convicted for the murders of Susan, Caroline and Sarah.
He was already serving life sentences for the three killings when he was found guilty of Jennifer's murder in 2011.
Reacting to the news of Black's death in prison on Tuesday, Jennifer's mother Pat Cardy said her family had "mixed feelings" but added that it had not yet sunk in.
"We certainly have no pleasure that he has gone," Mrs Cardy said.
"I'd like to have known the man, to have had more time to prepare himself for his death," she said.
Jennifer's brother, Phillip Cardy, said he did not hate the child killer but added that the main focus of attention should be his victims.
"I have no hate for him, I couldn't muster the hate for him," Mr Cardy said.
"It's a real shame that victims and their families are not remembered as much as the murderer. Everybody knows Robert Black but not everybody knows Susan Maxwell and Sarah Harper and Caroline Hogg and Jennifer. People forget very quickly."
He added: "All those wee girls never got a chance to live a life - it's sad."
BBC NI reporter Gordon Adair's Cardy trial memories:
Rarely, if ever, have I seen an outpouring of emotion like that triggered when the jury foreman at Armagh Crown Court uttered the single word "guilty" in 2011. Thirty years after her death, justice had finally caught up with Jennifer Cardy's killer.
Jennifer's family, jurors, journalists, and even detectives wept. The only person who showed no emotion was Robert Black.
He sat - as he had done throughout the trial - gazing towards the front of the court. No matter how horrific or distressing the evidence had been, he demonstrated not a single flicker of concern; not for Jennifer, not for her family.
Black never accepted his guilt, never showed any remorse, never apologised. At his sentencing, his barrister took the unusual step of standing up, saying: "I intend to say nothing in mitigation" and sitting back down.
Looking back now on Black's life there is, again, little to be said in mitigation.
In addition to the four murder convictions, Black attempted to abduct a 15-year-old girl in Nottingham in 1988, and was suspected of other unsolved crimes against children.
In 2005, he was arrested by Devon and Cornwall Police investigating the murder 13-year-old Devon schoolgirl Genette Tate in 1978, but there was insufficient evidence to prosecute him.