Stephen Farry shelves zero hours exclusivity clauses ban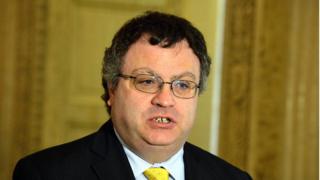 The employment minister has shelved plans to ban exclusivity clauses in zero contracts in Northern Ireland.
Such contracts allow employers to hire staff with no guarantee of work and exclusivity clauses prevent people from working for other employers.
Stephen Farry said his proposals were not now included in the Employment Bill as they had not gained "the necessary political consensus".
Mr Farry previously said 28,000 people may be on zero-hours contracts in NI.
Across the UK, zero-hours contracts are most prevalent in the hospitality and social care sectors.
Typically, an employee works fewer than 21 hours a week, with average pay of £236.