Air passenger duty: Stormont not bottling on tax says Storey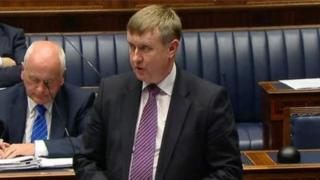 Northern Ireland's new finance minister has denied the executive is "bottling" taking action on air passenger tax.
Mervyn Storey, DUP, said: "Let's remember, for any decision we make there is a cost," he said.
"I think there are some people who seem to have this view that sometimes you can just make arbitrary decisions, there's no cost and there's no consequence.
"It cost Northern Ireland, in terms of the block grant, £2m."
The finance minister was speaking to Radio Ulster's Evening Extra.
He was responding to the managing director of Belfast International Airport Graham Keddie.
Earlier, giving evidence to MPs at Westminster's Northern Ireland affairs select committee, Mr Keddie said there was "lots of talk but no action" at Stormont on helping airports attract new airlines and new routes.
He pointed out that Scotland has committed to reducing the tax by 50% before eventually abolishing it.
The executive has previously ruled out devolving and scrapping the £13 tax, known as air passenger duty (APD), because it would involve a big reduction to Northern Ireland's block grant, provided by the Treasury, as a means of compensation.
Instead, it is thinking of operating an air route development fund to get new destinations out of Northern Ireland to the likes of Germany.
Mr Keddie said the fund must contain at least £4m.
Brian Ambrose, of George Best Belfast City Airport, also agreed on a need for action.
"What we are looking for is a kick-start to de-risk a new route for an airline," he said.
Cost-effective
Last week, the Irish airline Ryanair announced it was setting up a new hub at Belfast International Airport, but routes it will serve in the autumn could depend on action on APD.
Mr Keddie said Berlin in Germany would be one of those destinations but for APD.
He argued that scrapping APD would increase passenger numbers and make routes more cost-effective for operators.
Clive Coleman, from City of Derry Airport, also gave evidence and supported calls for help in securing routes.