George Mitchell: NI peace broker to lead New York's St Patrick's Day parade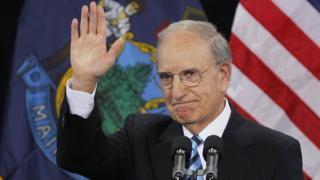 The US diplomat George Mitchell, who played a major role in the Northern Ireland peace process, is to lead New York's St Patrick's Day parade.
He helped broker the 1998 Good Friday Agreement, the peace deal that led to a power-sharing government in Belfast.
There has been controversy over the New York parade in recent years because of the exclusion of gay rights groups.
Former US senator Mr Mitchell told the New York Times he was assured the issue has been "satisfactorily resolved".
St Patrick's Day parades celebrate Irish culture and the New York parade is the biggest in the world.
In 2014, New York City Mayor Bill de Blasio refused to join his city's annual parade in protest against the organisers' long-standing policy of excluding marchers with gay rights banners.
The mayor continued his boycott protest the following year, despite the organisers' decision to allow one gay rights group to carry banners in the 2015 parade.
This year, Mr Mitchell has agreed to act as grand marshal.
The New York Times quoted him as saying: "What I was told is the [gay rights] issue has been satisfactorily resolved to all concerned, and I said in that event, I'm happy to accept."
The parade organisers described him as a "legendary peacemaker".