Granuaile club in bid to exclude Irish Guards GAA team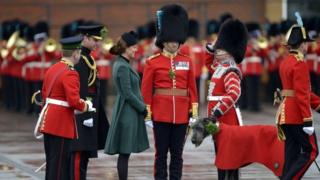 An attempt is being made to exclude a British Army GAA team from competing in this year's London Junior Championship.
A decision was made last September to include a team from the Irish Guards in the championship for the first time.
British security forces were banned from playing Gaelic games until 2001 under Rule 21 and the Irish Guards were the first Army regiment to become an affiliated club in the GAA's history.
However, a London hurling club is now seeking to have them excluded.
The Granuaile club has notified the London County Board of their proposal to 'rescind' the Guards' affiliation as a GAA club.
'Absolutely disgusted'
When the decision was made to accept the Guards last September, then London County Board chairman Noel O'Sullivan used his casting ballot to accept the club after a tied vote.
Mr O'Sullivan said he could not understand why the issue had resurfaced.
"I am absolutely disgusted, I cannot believe it is happening. I am dumbfounded at how anybody could return this to the table after all that went on," he said.
"I felt last September that there was no need of a vote, because I can't think why a person's occupation should come in to you playing Gaelic football or hurling.
"I thought it was done and dusted at that time, last September, but it's been brought back again to rescind that decision.
"All it is doing as far as I'm concerned is damaging the image of the London County Board . The majority of GAA people in London are totally and utterly for it [the Guards' affiliation]."
Ulster Unionist councillor Doug Beattie, a former Army captain, said it was a "regressive move".
"It's a real shame. The GAA has made huge strides to make it a more inclusive organisation and the rescinding of Rule 21 in 2001 was a courageous and a progressive move, as was the Irish Guards' decision to want to be part of the GAA structure in London by fielding their own hurling team," he said.
"This is really a regressive and a backward step."
A year after Rule 21 was revoked, the PSNI launched its first Gaelic football team, in a move that was hailed as a new beginning in the GAA's relationship with policing in Northern Ireland.
The Irish Guards then became the first Army regiment to become affiliated as a GAA club last year.
In a statement over the attempt to rescind that affiliation, the GAA said: "The GAA at central level has procedural issues with the suggestion that a club affiliation could be rescinded at this evening's meeting and has requested that any discussion or decision be put on hold until after scheduled meetings of management and central council this weekend."