Londonderry security alert has ended, police say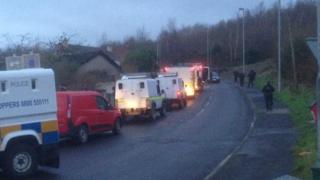 A security alert in Londonderry has ended.
Earlier police said they were searching for an explosive device.
All roads in the area have now re-opened.
The alert had continued into a second day after reports of a suspicious object in Southway on Thursday. Homes were evacuated and the road was closed.
Ch Supt Mark McEwan said the officers were looking for "an explosive device, something that is in a very public area".
He added that those "who would plant devices such as this...have absolutely no regard for the safety of the community".
Moved out
"We are bringing every tactic that we have at our disposal in order to try and get complete assurance around this operation so we can ensure people's safety in the community and also that we can also get it done as quickly as possible," he said.
He also said that dissident republicans would be "a major focus of the investigation".
Pensioner Eileen McGinley, who had a stroke last year, had to be moved out of her home.
"I live by myself with my dog. I had a stroke before Christmas and I didn't want to leave my home," she said.
Sinn Féin councillor Patricia Logue said: "The people who create these alerts have nothing to offer the community and should desist immediately from their campaign of disruption."