Causeway Council again opposes Dungiven leisure centre plan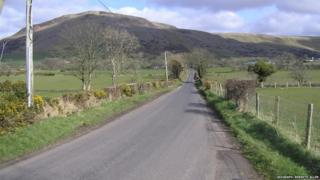 Causeway Coast and Glens Borough Council has again voted against plans for a new £2.8m sports and leisure project in Dungiven, County Londonderry.
The scheme has been in the pipeline for a number of years.
However, councillors voted by 20 to 17 against it at a meeting on Wednesday evening.
It is the second time the council has voted against it after a similar vote in December.
'Funding'
Following Wednesday's vote Sinn Féin councillor Sean McGlinchey said: "I am extremely disappointed that unionists have once again chosen to deny the people of Dungiven a new leisure facility.
"We will continue to work and campaign with the local community towards the delivery of this sporting facility. The unionists who opposed this vital community facility, however, need to get real and realise that the days of discrimination are over and are not coming back."
Unionists have said their opposition to the plan is due to a shortfall in funding for it.
Ulster Unionist councillor Daryl Wilson said they made their position clear from day one.
"We are looking at this in a holistic approach for the entire borough.
"We know there are a number of people in a number of areas where there are needs and we want to be fair to everyone.
"It is not that we are focusing on one area."
It is understood the facilities, in the Curragh Road area of Dungiven, would have all been on one site and would have included halls, a gym and 3G facilities.