Hooded Men: Further delay in Army torture allegations case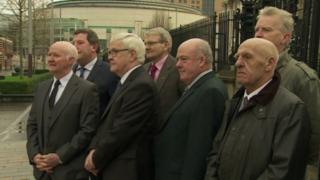 The group known as the 'Hooded Men', who claim they were tortured by the Army in the 1970s, are facing another delay in their court action.
The 14 men were arrested at the height of the Troubles under the policy of internment or detention without trial.
Surviving members of the group are involved in a judicial review.
They are challenging the failure of the police, the secretary of state and the justice minister to investigate allegations that they were tortured.
The Northern Ireland Office has said it needs extra time to examine documents.
Six of the 14 men attended the High Court hearing in Belfast on Wednesday, during which the judge agreed to a further delay in the judicial review case.
The group later expressed anger and said they believe the government is hoping that they all die before the matter is fully investigated.
Outside court, their spokesman Francis McGuigan said four members of the group have already died, one has had a heart attack and another has been diagnosed with dementia.
"We have been 45 and a half years waiting to get the full truth out," Mr McGuigan told the BBC.
"We've been attending this court for a year now to get this judicial review as to why the Royal Ulster Constabulary or the Police Service of Northern Ireland have refused to investigate our claim of torture.
"We've already been to the European Court way back in 1976 and 1978 and they still won't release the documents to us to let the truth out, to let the truth be heard."
He added: "I think they're actually waiting until we all die off and hope that the case dies, but I'm going to tell them it's not going to stop. If we don't make it, our families will keep pushing it."
Their solicitor argued in court that time is of the essence but failed to get a firm date for the full hearing.
The case is due to return to court on 6 April.