NI floods: Family buys dinghy to get to and from home outside Lisnaskea
Waist-high floods have led to a family buying a dinghy to get to and from their County Fermanagh home over the past three weeks.
Donna Halpin said it was the only way they could stay in their own home, with their three children, during Christmas.
They have now bought a 4X4 vehicle to drive though a flooded lane leading to their house at Curragh, near Lisnaskea.
She is worried about getting stuck in a concealed drain at the side of the lane but said she needs to get to work.
View the latest weather forecast here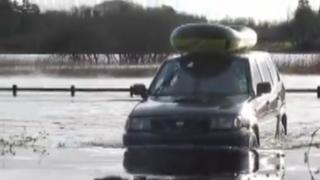 "You can't see where you are walking, the water is so dirty," she told BBC Radio Ulster's Evening Extra programme.
"It is just a mess."
County Fermanagh has been badly hit by flooding in recent weeks, after heavy rain brought by Storms Desmond, Eva and Frank.
Ms Halpin posted a video on social media of her family's journey though the floods.
"Although you can't see it in the video, the lane is only the width of a car and along the side is a deep drain," she said.
"If you go off the road, or the current pushes the jeep off the road, that is it - there is nothing there to stop it."
Emergency services have repeatedly advised people not to drive through flood waters and to seek alternative routes.
However, both Lough Erne and another nearby lake have flooded the only route to their home.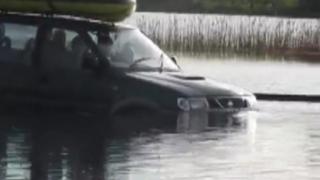 She said she is concerned about driving through the floods but added that "the bills are still coming in to be paid".
"I still have to go to work and I don't want them [her children] missing out on their school, so what can I do?" she asked.
After moving out to her mother's house for a fortnight in early December, the family took matters into their own hands in order to spend Christmas in their own home.
'Laugh or cry'
"It is not the same when you are not at home when you have three wee ones," Ms Halpin said.
"We were actually using a rubber dinghy that we bought, believe it or not.
"We blew it up, we brought the bin across in it so that the rubbish could be lifted by the bin men.
"We brought oil in so we could heat the house over Christmas, it was just a disaster."
She said the flooding was the worst she had seen in the area and coping with the disruption was "hard work".
Donna Halpin's interview will be broadcast on BBC Radio Ulster's Evening Extra programme after 17:00 GMT on Monday 4 January 2015.