Derry courthouse escape: Man arrested in city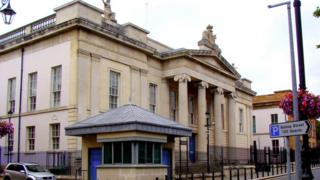 A man who escaped from police custody outside Londonderry courthouse almost a week ago has been arrested.
The 22-year-old had escaped from a parked police car after he was driven from Strand Road PSNI station to the court on Bishop Street on 23 December.
He got out and climbed over a six-foot high security fence, then scaled a second, higher, fence, walked through turnstiles and ran along the street.
The man was arrested in Derry early on Tuesday.