RQIA highlights failings at Kingsway Private Nursing Home, Dunmurry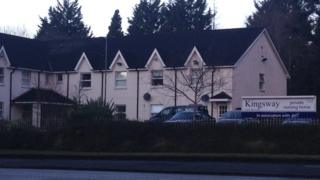 Proceedings have been issued against a nursing home in Dunmurry to force it to take action on concerns raised by a third highly critical inspection.
The move, against Kingsway Private Nursing Home, by the Regulation and Quality Improvement Authority (RQIA).
An inspection raised concerns over the quality of food, hydration and how information is recorded at the home.
The home has until 11 February to take action. A further inspection will take place on that date.
If it is not seen to be addressing the concerns raised, among the RQIA's option are to halt admittances to it or, as a last resort, to close the home on the outskirts of Belfast.
There have been three critical inspections at Kingsway in less than 12 months.
The unannounced inspection earlier this month found what the RQIA called a "lack of attention to patients' choice, privacy and dignity".
The report also highlighted the sharing of underwear between residents.
It was also critical of communication between certain sections of staff and the attitude of some towards residents.
Paramount
A spokesman for the RQIA said: "In December, following the identification of serious concerns in relation to care at Kingsway Nursing Home, RQIA issued two notices of failure to comply with regulations to the management of this service.
"These notices set out the actions required by the home within a specified timeframe to achieve compliance with regulations."
He also said the "safety and wellbeing of every patient at Kingsway is of paramount importance" to the RQIA, adding that it would continue to monitor the home.
In a statement, Care Circle, which runs the nursing home, said: "A recent inspection carried out at Kingsway Private Nursing Home by the Regulation and Quality Improvement Authority identified some areas that required attention.
"Care Circle has made progress and further actions are currently receiving attention."