Elderly woman dies in house fire in Enniskillen, County Fermanagh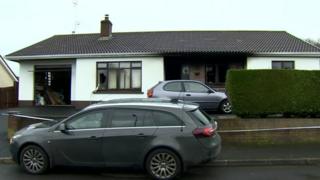 An elderly woman has died in a house fire in Enniskillen, County Fermanagh.
Emergency services were called to the house in Silverhill Park shortly before midnight on Sunday.
The woman's husband, who is in his 70s and was also in the house at the time of the fire, was taken to hospital for treatment to his injuries.
An investigation into what caused the blaze has started but police are not treating it as suspicious.
It is the second fatal house fire in Enniskillen in just under a month.
On 3 December, a man was found dead after a fire in the Kilmacormick area of the town.
Tragedy
Ulster Unionist Party MP Tom Elliott said the community had been shocked by another death by fire.
"I knew the lady and her wider family that died in this tragedy," he said.
"It is difficult for the family and wider community when such a tragedy strikes.
"My sympathies to them all at this time."
Councillor Keith Elliott said: "People were devastated to wake up this morning to hear that another person has gone in this way," he said.