'Well-loved' west Belfast man Jim Maxwell dies after being struck by car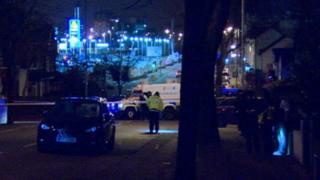 A pensioner who died after he was struck by a car in Belfast on Wednesday was Jim Maxwell, also known as Maxi.
Mr Maxwell was walking on the Donegall Road near the junction with the Falls Road, when he was involved in the collision shortly before 19:30 GMT.
Breige Brownlee, who knew Mr Maxwell, was at the scene of the accident shortly after it happened.
She said: "For our local area, it's a terrible loss as Maxi was very well respected.
Prompt
"A local girl who works for St John's Ambulance was passing.
"She got out of her car and tried to revive Maxi, but unfortunately she wasn't able to.
"The ambulance service was here within minutes, their prompt action couldn't be faulted in any way."
West Belfast MP Paul Maskey said: "My thoughts go to this gentleman's family.
"There's no good time of the year for anyone to be knocked down, but especially this time of year just adds that extra bit of sadness."
Unfortunate
Mr Maskey said Mr Maxwell, who was in his 70s, was a "well known member of the community around the greater St James's area" and was "well loved".
"We're now left with a fatality on our roads - it's unfortunate that his life has had to end in this way."
Police have appealed for anyone who witnessed the collision to contact them.
Earlier on Wednesday, another pedestrian died after he was struck by a lorry in County Down.