Villiers to meet Sinn Féin in bid to break deadlock on how to deal with the past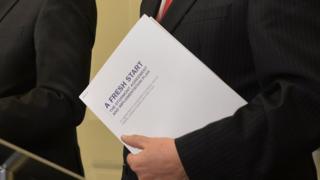 The secretary of state for Northern Ireland will meet Sinn Fein early next month in an attempt to break the deadlock over how best to deal with the legacy of the Troubles.
The Fresh Start deal agreed in November did not include any agreement on dealing with the past.
A new Historical Investigations Unit has been put on hold.
It was due to take over reviews of over 930 killings which took place during the troubles.
The police remain responsible for those investigations.
The Chief Constable of the Police Service of Northern Ireland (PSNI), George Hamilton, made it clear to the policing board earlier this month that he was not happy with the outcome.
"The one area of real disappointment for us as a police service, and indeed for many grieving families, is the lack of agreement on dealing with the past," he said.
"This will have significant implications for the PSNI. The public services of today, including the police, are not set up or suitably resourced to respond to the demands of dealing with the past."
Mr Hamilton also made it clear that politicians must bear responsibility for dealing with the issue.
'Political scapegoat'
"Whilst the PSNI will never shirk our responsibilities, I will not allow this organisation to become the scapegoat for political failure to reach an agreement on this critical issue," he added.
Politicians could not reach agreement on legacy issues because of disagreement over how much information about the past would be made public.
The government says it wants to retain a veto on some information because of concerns that its disclosure could damage national security.
Under proposed draft legislation the police, Ministry of Defence and the security service MI5 could also have objected to material being released.
Sinn Féin has accused the government of using national security as an excuse to restrict the flow of information to families of those killed or seriously injured during the troubles.
It has put forward an "options paper", setting out proposals it claims could address the government's concerns about national security, while ensuring families get the maximum possible disclosure of material.
The Secretary of State recently expressed optimism that agreement on how to deal with the past can be reached.
But republican sources say that will not be possible unless the government agrees to some form of independent oversight of what information can be disclosed.
Theresa Villiers plans to meet Sinn Féin early next month to discuss its proposals.
All those involved say they are committed to finding a way to deal with the past.
But they cannot yet agree how.
The Secretary of State will also meet other political parties and victims' organisations.