River quality targets not being met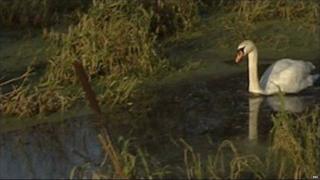 Measures to improve the quality of our rivers and lakes are having only a "small impact" and are taking longer than hoped to take effect.
Pollution from agriculture, sewage and development means targets set six years ago have not been met.
Now, new plans have been announced by the Department of Environment.
It is hoped it may get 70% of waterways to a European Commission standard by 2021.
The authorities say it takes time for measures introduced to have an effect on the ground.
They concede that the first measures introduced in 2009 have had only a "small" impact.
Fresh plans to address the problem include a scheme to screen waterways from farm livestock.
Uncertainty
NI Water will also invest millions in sewage infrastructure.
However, there is "no certainty" around future funding for the plans, and the case will have to be made to pay for them.
The new river basin management plans are expected to cost £105m over their six year duration.
The best water quality is in the North West Basin, covering large parts of Tyrone, Fermanagh and Derry.
But even there only 45% of water courses have achieved "good ecological status" against a target of 69%.
The Environment Minister, Mark H Durkan, said improvements were being made in water quality, but "not as fast as we would like".