NI state papers: The pros and cons of training soldiers in Northern Ireland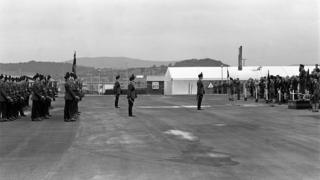 The Northern Ireland Office (NIO) was not keen on the idea of establishing a local training area for the Army, state papers from 1988 suggest.
But it was happy to propose inviting the Irish Army to train in Britain.
The NIO's reluctance was coloured by the political situation.
Confidential files show the NIO was very aware of Anglo-Irish sensitivities after the 1981 hunger strike. It was against the Army's idea.
In a letter to Sir Ewart Bell, head of the Northern Ireland Civil Service, on 19 November 1982, Paul Buxton, NIO, said that the Army had no large training schools in Northern Ireland, apart from a few firing ranges at Ballykinler in County Down and Magilligan in County Londonderry.
Men had to be sent to Great Britain whereas, if local facilities existed, it would be more economical and "rather more training would be done". The problem was compounded by the needs of the Ulster Defence Regiment (UDR), he said.
The Army had looked at possibilities in the Sperrins and in the Antrim Forest. The Sperrins idea was discarded because of the security risk - it was deemed "staunchly republican". Antrim Forest around Slemish and Glenarm was more viable.
However, he stressed that there must first be "a sustained period without terrorist violence".
Nationalist anger over the Army's presence and a unionist outcry over the encroachment on good farm land were also mentioned.
However, the NIO did propose inviting the Irish Army personnel to train in the United Kingdom.
In a memo to colleagues in February 1986, Peter Bell, NIO, said the Irish Army had not taken part in such courses in the UK because of the cost.
He wanted to reverse this trend, so that Irish career officers were better trained in skills that increased their effectiveness on the border.
He also hoped to enhance their motivation through developing closer personal and work relationships with British officers.
He saw no resistance on the Irish side: "There is no lack of willingness in the Irish Army to attend these," he said.