Christopher Meli murder : Two teenagers apply for bail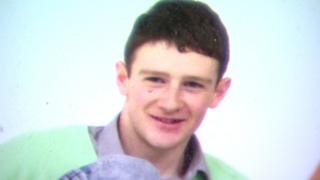 Two teenagers charged with the murder of Christopher Meli in west Belfast nine days ago have applied for bail.
Mr Meli, whose funeral took place on Monday, was found dead in the Twinbrook estate on 12 December after an assault.
The accused are 18-year-old Lee Smyth, of Colinbrook Gardens in west Belfast and a 16-year-old boy who cannot be named for legal reasons.
The court heard both denied murder. Bail was granted to the youth but refused in Mr Smyth's case.
Police objected to bail applications from both teenagers as they appeared separately by video link from the Young Offenders Centre.
A detective sergeant described how a "large disturbance" outside a kebab shop on the Stewartstown Road led to Mr Meli's murder.
The officer told the court that Mr Smyth handed himself in to police voluntarily hours after the murder and during police interviews, had admitted "being involved in an altercation" with the victim, whom he confessed to "punching a number of times".
However, when he was charged with the killing, Mr Smyth told police "I didn't murder Christopher Meli."
Under cross-examination, the detective sergeant agreed with a defence solicitor that Mr Smyth had told police "that he was attacked with a knife" by Mr Meli.
The court heard that Mr Smyth had provided police with the names of other people who were at the scene, and had alleged that some were carrying knives.
The officer said that the 18-year-old had been warned of a threat against him, due to ongoing "tensions" in west Belfast.
The judge refused Mr Smyth's application for bail after police expressed concerns about the risk of further offending.
The court was told the 16-year-old boy handed himself into police on the day after Mr Meli's body was found.
The detective sergeant said the boy initially told police that "he had punched the deceased a number of times" but then retracted his admission in later interviews.
When officers charged him with the murder, the 16-year-old replied: "I didn't injure, assault or murder Christopher Meli."
The boy was released on bail but told he must obey a curfew and was barred from contacting witnesses or his co-accused.
Both teenagers are due back in court on 18 January.