Police probe assault on group of youths in west Belfast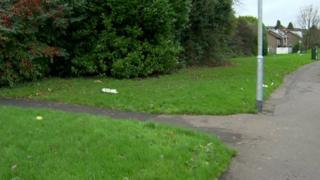 The police are investigating reports that a group of teenagers was assaulted in west Belfast.
It happened shortly after 02:00 GMT on Sunday in Poleglass not far from where Christopher Meli was beaten to death.
One of the teenagers, a 16-year-old boy, was treated for facial injuries, including a suspected fractured nose.
It is understood they were attacked by a number of people who got out of a car.
Police have said they are investigating a motive.
Ch Insp Anthony McNally said there has been a significantly increased police presence in west Belfast in recent days, as local community and political leaders have already been advised.
"We are committed to keeping people safe. There is, though a wider social responsibility for all in the area, including civic and community leaders, to assist in reducing tensions and deterring offenders," he said.
Sinn Féin MLA Jennifer McCann said it was a "vicious attack".
"The youths were savagely beaten when they were attacked by a gang last night as they were walking back to their home in the Poleglass area," she said.