Belfast City Council approves housing plan for former Visteon factory site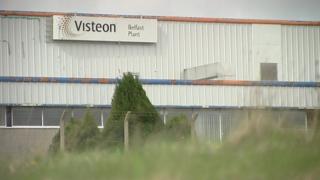 Belfast City Council has granted planning approval for a controversial housing project on the former Visteon factory site in west Belfast.
Fold Housing Association has plans for 244 homes, a community centre and business units on the site.
The development had been opposed by some local residents.
They had objected to the loss of a site that was previously used for employment purposes.
A council spokesman said the decision by the planning committee had been unanimous, though two councillors abstained from the vote.
Reacting to the development, Social Democratic and Labour Party (SDLP) councillor Tim Attwood questioned whether the proposal will deliver "a significant economic and jobs footprint".
He added: "It is essential Belfast City Council, the Department of Enterprise Trade and Investment (DETI) and Invest Northern Ireland now redouble their efforts to secure jobs and sustainable economic development in west Belfast."
The Visteon factory closed in 2009 with the loss of more than 200 jobs.
The redevelopment of the land is a £25m project.