Paramilitary disbandment strategy panel unveiled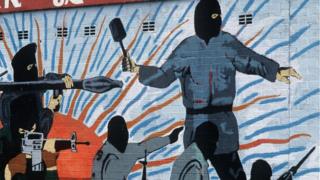 A panel has been appointed to develop proposals for a strategy to disband Northern Ireland paramilitary groups.
The panel was one of the key components of the Fresh Start Agreement.
It is made up of Lord Alderdice, Monica McWilliams and John McBurney, who will report to the Stormont Executive before the end of May 2016.
First Minister Peter Robinson said the panel would "point the way in which we as a society can remove their [paramilitaries'] scourge".
He added: "There can be no place for paramilitarism in the new Northern Ireland. That day has gone."
Deputy First Minister Martin McGuinness said: "I have repeatedly challenged armed groups and criminality over many years and today we send out another strong, united message there is absolutely no place for armed groups or criminality in our society."
Justice Minister David Ford said the panel would complement the work already being done to fight organised crime and paramilitarism.
Assessment of paramilitary groups
Lord Alderdice is currently the Liberal Democrats' Lords spokesperson for Northern Ireland. He was leader of the Alliance Party from 1987-1998 and speaker of the assembly from 1998-2004. He was also a member of the Independent Monitoring Commission from 2004.
Monica McWilliams is professor of women's studies at Ulster University. She was previously chief commissioner of the Northern Ireland Human Rights Commission, a founding member of the Women's Coalition and an MLA from 1998 to 2003.
John McBurney qualified as a solicitor in 1979 and has been in practice in Northern Ireland since that time. He has served on the Law Society Council and many of its committees.
In October, the government published an assessment of paramilitary groups in Northern Ireland.
The report, jointly drafted by the Police Service of Northern Ireland and MI5, was commissioned following the murder in August of Belfast man Kevin McGuigan Sr. A political crisis was prompted by the police's belief that current IRA members were involved in the killing.
Among its findings was that the Provisional IRA's structures, including its ruling 'army council' remains in existence.
It also found that UVF structures remain in place and there has been some evidence of recruitment while the UDA remained in existence but have limited control over members' activities.