Northern Ireland has highest rate of university entry in UK in 2015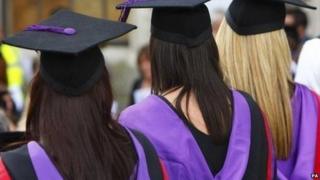 Northern Ireland had the highest rate of university entry among young people in the UK in 2015.
In Northern Ireland, 42.8% of 18 and 19-year-olds took up university places.
This compares to 42% in England and 36.8% in Wales, according to annual entry figures from the UCAS admissions service.
The annual statistics from UCAS show the complete picture of university applications for those starting courses in autumn 2015.
UCAS does not gather comprehensive figures on students entering higher education in Scotland.
While the percentage of 18 and 19-year-olds entering university is highest in Northern Ireland, there has been a slight fall in entrance rates over the past two years.
There was, however, a significant fall in the number of students entering Northern Irish universities.
In 2015, 10,165 students were accepted, compared to 11,260 last year, a decrease of around 10%.
The statistics also show that 21,030 people of all ages from Northern Ireland applied to go to university in 2015, with 14,050 successful.
The majority (8,920) were accepted to universities in Northern Ireland, but almost 4,000 went to study in England, while over 1,000 went to Scottish universities.
Fewer than 200 went to study in Wales.
It is harder for 18-year-olds from Northern Ireland to get into university than their peers across the UK, with around seven in ten having their university applications accepted in 2015.
This is significantly lower than the number of applicants of the same age who are successful in England and Wales, where acceptance rates for 18-year-olds were around 85%.
The number of students from the most disadvantaged areas going to university also fell here.
In 2015, 15.7% of young people from the most disadvantaged areas entered university, compared to 16% in 2014.
The figures also show that 2,080 students from the Republic of Ireland were accepted to study at UK universities in 2015.