David McConaghie: Ex-DUP adviser has appeal dismissed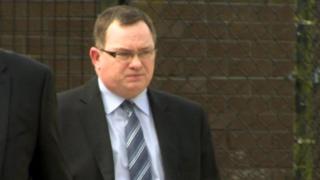 A man who was convicted of placing a hidden camera in the toilets of an MP's constituency office has had his appeal dismissed.
David McConaghie, a former aide to the Democratic Unionist Party (DUP) MP David Simpson, hid the camera at the office in Portadown, County Armagh.
On Wednesday, McConaghie had his appeal dismissed, but his sentence reduced from four months to three.
He has been put on the sex offenders' register for seven years.
McConaghie, from Cottage Hill, Dollingstown, County Down, did not give evidence at Craigavon Crown Court.
The court had previously heard he had made recordings over a period of several weeks in August and September 2012.
The judge reduced McConaghie's sentence on the grounds of a previously clear record.
He said the court expressed its revulsion towards McConaghie's behaviour.
"You have shown no remorse," he added.
"You seemed to have tried to imply there was a vendetta against you by persons unknown.
"You are incapable and unwilling to face up to your responsibilities."