Abortion: Judge to determine scope of Northern Ireland law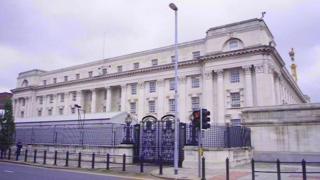 A High Court judge is to determine if the scope of existing abortion legislation in Northern Ireland can be widened or if it should be declared "incompatible" with human rights law.
Last month, Mr Justice Horner said women who were the victims of sexual crime and cases of fatal foetal abnormality (FFA) were entitled to exemptions in the law.
He said that the current provisions in the Offences Against the Person Act 1861 breached Article 8 of the European Convention on Human Rights.
This requires respect for a person's family life and personal autonomy.
In Northern Ireland, abortions are only permitted if a woman's life is at risk or there is a permanent or serious risk to her mental or physical health.
Mr Justice Horner cannot overturn primary legislation such as the 1861 Act, but he does have two options.
He will either read the current legislation in such a way that it can include fatal foetal abnormality and pregnancies that result from sex crimes - this is known as "reading down" the legislation.
Alternatively, if this is not possible, he can make a "declaration of incompatibility".
Uncertainty
This does not change the law nor does it strike the present law down but it puts the onus on politicians to come up with new legislation.
If Mr Justice Horner makes such a declaration then what happens next is uncertain.
It should be up to the Northern Ireland Assembly to make a move although it is under no obligation to do so - it could let the legislation stand as it is.
Health Minister Simon Hamilton recently circulated abortion guidelines to executive colleagues but these currently do not consider the judge's position.
The matter will be raised at the Northern Ireland Executive on Thursday, a day after the ruling, but a decision on the way ahead is not expected to come out of that meeting.
Over all of this hangs the prospect of an appeal by the attorney general or the Department of Justice. This can be lodged within six weeks.
In short, any change to abortion law in Northern Ireland is still some way off.