Newtownabbey: 'Pipe bomb' found in security alert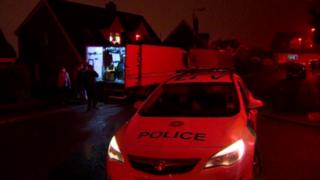 A suspicious object that sparked a security alert in a residential estate in County Antrim was a "viable pipe bomb-type device", according to police.
A number of homes were evacuated in Hollybrook Crescent, Newtownabbey, during the operation on Monday night.
Army bomb disposal officers took the pipe bomb away for further examination.
A police spokesman said all residents have been allowed to return to their homes and the road has been reopened to traffic.
Earlier, Sinn Féin Councillor Michael Goodman criticised those responsible for the attack.
He said families had been "forced from their homes on a cold winter night in the mouth of Christmas by a bunch of people who have been rejected by this community".
"The people behind these actions need to wise up and stop the disruption of children, the elderly and infirm," he added.
Mr Goodman thanked staff from Antrim and Newtownabbey Borough Council for offering shelter to the affected residents at Valley Leisure Centre during the alert.