Queen's University Belfast students continuing sit-in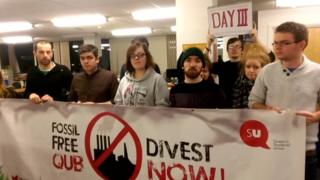 About 15 students spent the weekend occupying part of a building belonging to Queen's University, Belfast.
They say it is in protest at the university's failure to commit to divestment from fossil fuels.
They have occupied a floor of the university's administration building and say they will do so "indefinitely".
The university has said it will review its investment policy in the new year and that it has invited the students to take part.