Stormont departments plan for budget cuts of up to 10%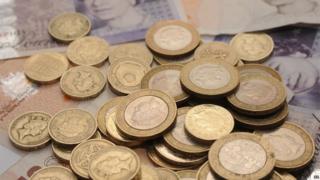 Stormont departments have been told to plan for cuts of up to 10% in their day-to-day budgets next year.
The Northern Ireland Executive aims to have a budget in place for the 2016/17 financial year by the end of January.
Departments have been told to plan for a cut of either 5% or 10% to "resource" budgets.
The executive will then decide where, and to what extent, cuts should fall across departments.
Chancellor George Osborne's Spending Review means that the executive's overall budget for day-to-day spending will fall by about 1% next year.
However, if health spending continues to be protected it will mean larger cuts across the other departments.
There are also various "inescapable" spending commitments, as well as the impact of inflation.
A complicating factor is that the number of Stormont departments is due to be cut from 12 to nine in May 2016.
'Significant'
Senior civil servants have begun to brief executive committees on what cuts of either 5% or 10% could mean for services.
For example, the social development committee was told that the impact will be "significant".
The department's director of financial management said "given the level of the cuts we have already sustained, it is impossible to deliver the same with less".
She pointed to potential cuts in neighbourhood renewal schemes, the Housing Executive and the Social Security Agency.
Stormont's culture, arts and leisure committee was told that a 5% cut could mean a major reduction to new stock in libraries and further reduced opening hours.
A cut of that level could also push some community-based arts organisation towards closure.
A 10% cut could mean closures of libraries, museums and galleries and the closure of some arts organisations.
In the aftermath of the Spending Review, Stormont Finance Minister Arlene Foster said: "If we want to protect health and education services in Northern Ireland, the executive will face hard decisions as that protection will impact on other departmental budgets."
The executive discussed the budget on Thursday, and it is expected to reach agreement on it next week.