Antrim Area Hospital postpones children's ENT surgery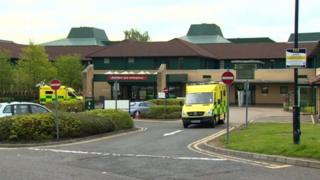 Antrim Area Hospital has postponed all paediatric ear, nose and throat (ENT) surgery until the end of the year.
Children's wards across Northern Ireland are under pressure due to the recent spike in seasonal bronchiolitis.
The Health and Social Care Board said non-urgent surgery had been cancelled in some places in order to give the best care to acutely-ill children.
In the past day, three non-urgent paediatric operations were cancelled in the Southern Trust.
Three were also cancelled in the Western Trust.
On Wednesday, the South Eastern Trust said it had not cancelled any paediatric cases.
The Belfast Trust has yet to respond.
Bronchiolitis is a respiratory condition which affects many infants, but can develop into a serious chest infection.
Two weeks ago, an escalation plan was implemented to cope with increased demand for paediatric intensive care beds.
All paediatric surgery was cancelled at the Royal Belfast Hospital for Sick Children in order to accommodate acutely-ill children. One had to be sent to Dublin because of pressure on beds.
In a statement, the Health and Social Care Board said: "This situation is not unique to Northern Ireland, and across the UK there are very high numbers of children with bronchiolitis being admitted to hospitals and intensive care units.
"The situation is being monitored continuously, and health and social care trusts will contact all patients affected.
"Any postponed surgeries will be rescheduled as soon as possible."