Racial equality strategy for Northern Ireland aims to tackle hate crime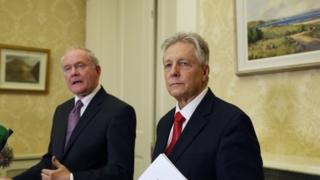 Work to tackle racist bullying and hate crime are two proposals in a new Stormont Executive agreement on a racial equality strategy.
The strategy for 2015 to 2025 sets out a number of proposals for government departments.
Other plans include a review of current legislation and identifying racial equality champions in all departments.
Northern Ireland First and Deputy First Ministers Peter Robinson and Martin McGuinness have welcomed the strategy.
Mr Robinson said society in Northern Ireland had "become increasingly multicultural" and the strategy was their "acknowledgement of the positive contribution minority ethnic groups make to our economic, public, political, social and cultural life".
"We will leave no stone unturned in our efforts to ensure ethnic minority people living and working among us will not be subjected to racially motivated acts of violence," he added.
Mr McGuinness said government alone "cannot and will not eradicate racism and racial inequalities".
"There are already many people and organisations who are doing powerful work in their neighbourhoods, places of worship and workplaces to tackle racism," he added.
"The strategy provides a platform for action to build on these efforts and generate further momentum."