Northern Ireland economic output growth rate still 'lowest in the UK'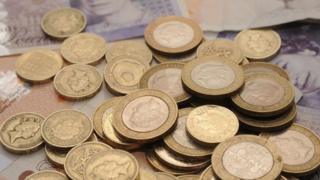 Economic output per person in Northern Ireland grew by 1.9% in 2014, double the rate of growth in 2013.
However, it was still the lowest rate of growth of any part of the UK.
The figure is contained in a report from the Office for National Statistics.
It shows that the highest rates of growth were in London at 5.3% while in Scotland and the East of England it was 4.2%.
The growth rate is measured using Gross Value Added (GVA) per head.
In crude terms, it is calculated by adding up the incomes generated by people and companies and dividing that sum by the population.
The average GVA per head for the UK in 2013 was £24,616, however, that is skewed by London, which is much higher than other regions at £42,666.
Northern Ireland had GVA per head of £18,682 - ahead of Wales on £17,573 and the north east of England on £18,216.
That means Northern Ireland's GVA per head was just 75.9% of the UK average in 2014.
Recession
In 1997, when the data was first published, it was 83.6% of the average.
The gap with the rest of the UK narrowed in the boom years and peaked at 84.5% in 2007, before falling away sharply during the recession.
There are significant variations in GVA per head within Northern Ireland.
In Belfast in 2014 it was £34,583 which is higher than Manchester and Leeds and just below Aberdeen.
By contrast GVA per head in the North of Northern Ireland was just £14,349 which was the fifth lowest of any sub-region of the UK.