Army Troubles archives were left unprotected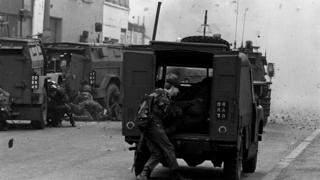 Secret security documents that could provide vital evidence in unsolved cases from the Troubles were not protected from possible destruction, it has emerged.
Last year, the Ministry of Defence put a preservation order on its Operation Banner archives to keep them safe.
Operation Banner was the title for the military's operations in Northern Ireland from 1969 to 2007.
BBC Spotlight obtained a copy of the preservation order issued in July 2014.
The order also covered British Army operations in Afghanistan and Iraq.
Campaigners for those killed in the Troubles are concerned about why it took seven years, after the end of Operation Banner, to place legal protection on documents - and fear what was happening to documents in that period.
Paul O'Connor of the Pat Finucane Centre in Londonderry said: "That order should have been issued many, many years before hand and we don't know what was destroyed in the meantime or what was weeded out."
Some of the documentation could have significant legal significance, in murder investigations going back over 40 years.
It is understood that the Operation Banner archives are held in two warehouses in England. One is in Swadlincote, near Derbyshire, and the other is in Portsmouth.
These documents are classified as secret.
Families pressing for inquests or fresh investigations into Troubles cases have been seeking access to the files.
Last night's Spotlight spoke to the family of Annette McGavigan.
The 14-year-old was shot dead in Derry in September 1971.
The Army said she was caught in crossfire between soldiers and the IRA and it was unclear whose bullet killed her.
Her family has always maintained it was a soldier who shot her.
Last year the McGavigans took the MoD to court.
It was during those proceedings that it was revealed the Preservation Order had not been issued.
The McGavigans took the case in a bid to force the MoD to release documents in relation to this case.
So far the paperwork has not been released.
Annette's brother Martin said: "It is frustrating, very frustrating. You feel as if you are banging your head off a wall at times, you're getting no answers but we will keep doing it."
Paul O'Connor added: "It has been an incredibly uphill struggle to get any information. It's been like drawing hens teeth, it really has been extraordinary."
The Operation Banner archives have been the focus of intense political discussions at Stormont.
The government has said it will open them to detectives from a new historical investigations unit.
But it has also said some documents deemed sensitive on the grounds of national security cannot be made public.
The MoD rejected any suggestions that it may be suppressing material concerning civilian deaths during the Troubles.
It told Spotlight that some non-essential Troubles documents have been destroyed but others are already publicly accessible; closed files are retained "because of personal or operational sensitivities".