Colin White convicted over racist slogan on loyalist bonfire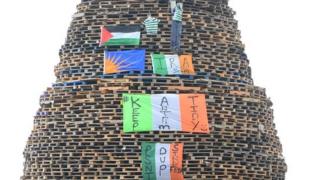 A teenager has been convicted over a racist slogan on a loyalist bonfire in what is believed to be the first case of its kind in Northern Ireland.
Colin White, from Farmhill in the Ballycraigy estate in Antrim, was prosecuted over the slogan which expressed hatred towards black people.
It was scrawled on a bedstead on a bonfire in the estate on 11 July, 2014.
The 19-year-old, who the court heard has learning difficulties, will be sentenced in January.
White had contested the case against him at Antrim Magistrates' Court.
He did not deny being present at the bonfire but denied he had written the slogan.
However, on Tuesday he was found guilty of "displaying written material which was threatening, abusive or insulting, intending thereby to stir up hatred or arouse fear".
Although the defendant had a previously clear criminal record, the judge said he came close to sending him straight to jail, adding the only thing stopping him from doing so was that White had learning difficulties.
He has asked for a pre-sentence report to be produced before passing sentence next month.
As well as the racist slogan, the Ballycraigy bonfire also contained Irish tricolours daubed with messages and an effigy of Sinn Féin leader Gerry Adams.