Specialist drugs could soon be available to more NI patients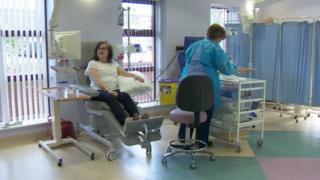 More patients in Northern Ireland could soon have access to specialist drugs not routinely available on the NHS.
It follows a decision by Health Minister Simon Hamilton to alter the criteria used to determine who can apply for drugs which have not been approved by the National Institute for Health and Care Excellence (NICE).
Some drug therapies are not approved by NICE because it is not thought the potential benefits justify the costs involved.
There are mechanisms by which doctors and patients can access these specialist drugs.
That process is more difficult for patients in Northern Ireland than anywhere else in the UK.
It is known as the Individual Funding Request (IFR) and its been criticised for its complexity and the use of something called the "exceptionality criteria".
In essence it means access to some specialist drugs is only permitted if a doctor can show that their patient is different to 95% of patients with the same condition at the same stage.
Cancer charities have long called for this requirement to be scrapped, describing it as unethical and unfair.
In response to a consultation on access to specialist drugs, the health minister has decided there should not be a ring fenced pot of money like the Cancer Drugs Fund (CDF) in England.
Instead, he is opting for a system much closer to the one operating in Scotland.
The "exceptionality criteria" is to be removed and a regional scrutiny committee will be established to ensure access to drugs is consistent across Northern Ireland.
Transparency
It means, in theory at least, that someone in rural Fermanagh should have the same access as someone living in central Belfast.
There will also be moves to make the decision process more transparent.
At the moment, the department estimates that around £2m is spent on drugs not approved by NICE.
It estimates this will increase to £7m or £8m once the criteria is relaxed.
This funding will be found within the Health and Social Care budget.
In England, the costs of the Cancer Drugs Fund have spiralled since it was set up in 2011.
It is currently being reviewed with an overhauled system due to come into place next year.
The minister has also re-stated that he has no intention of introducing prescription charges which had been linked to the formation of a specialist drugs fund.
Cancer charities have welcomed the decoupling of the prescription charges issue from access to specialist drug therapies.
'Mixed messages'
Cancer Focus NI's chief executive Roisin Foster said the moves outlined are a positive step forward.
"One of the biggest problems for cancer patients has been the lack of information and mixed messages [about specialist drugs] at a time when they need reassurance," she said.
"Some of those who have been campaigning with us for years for better access to some drug therapies have now died, but their relatives will be glad that the fight was not in vain."
Mr Hamilton said an implementation group will be established to make changes to the current system.
"I therefore propose to establish a short life task and finish group to commence the work to redefine exceptionality, create a regional scrutiny committee to establish peer review and consistency across the province, and revise the IFR guidance to provide more transparency," he said.
"My officials are currently working to establish this group and it will meet as soon as possible."