Ian Paisley and Danny Kinahan given Rugby World Cup tickets by JTI Gallaher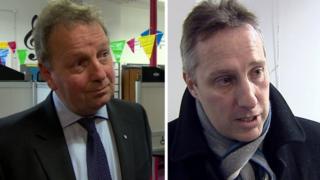 Two Northern Ireland MPs have declared receiving hospitality worth more than £1,500 each from the cigarette manufacturers JTI.
North Antrim DUP MP Ian Paisley and the South Antrim Ulster Unionist MP Danny Kinahan got tickets to a Rugby World Cup match in October.
Each politician got a ticket to the match between England and Australia at Twickenham on 3 October.
The politicians estimate the value of the tickets and dinner as £1,650 each.
In January, JTI Gallaher confirmed they would shut down their Ballymena plant in 2017 with the loss of 870 jobs.
Mr Paisley said JTI remains a major employer in his constituency until then, and the firm's management asked him to attend along with a number of key personnel and customers.
Mr Kinahan said: "Many of my constituents are impacted by closures in North Antrim.
"I will continue to take any opportunity to discuss options that may help generate employment for South Antrim and Northern Ireland."
Also in October, SDLP MP Mark Durkan registered receiving travel and accommodation worth £2,400 to meet Colombian peace negotiators in Cuba.