The A-Z of NI politics in 2015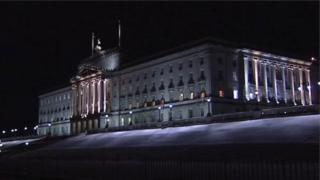 Stormont institutions under threat, new deals and fresh faces leading political parties - It's been another busy year in Northern Ireland's political world.
A is for Army Council
It hasn't gone away you know. Or it is a thing of the past. Believe whichever version you like, but for a few weeks, a body which was supposed to have been consigned to history seemed to hold the key to whether Stormont stood or fell. An independent panel, set up in the wake of Kevin McGuigan's murder, concluded that although IRA members believe the Army Council oversees both that organisation and Sinn Féin, it had a wholly political focus. It was enough to calm DUP nerves and get the Executive working again.
B is for Biden
Seemingly oblivious to the fact that political Washington on St Patrick's Day has an open door policy, the Vice President decided to spice things up with a pre-breakfast joke for the cameras. "If you're wearing orange you're not welcome in here" he cracked beside the Taoiseach who won the award for smiling through adversity while probably wishing he'd opted for room service and a later start.
C is for Cowboy Supper
Too much sausage, beans and chips is bad for you apparently. Who knew? Seemingly not the First Minister Peter Robinson who put his heart attack down, not to stress, but his unhealthy lifestyle. He revealed that in the week before he took ill he had two chinese meals, a Kentucky Fried Chicken, a McDonald's and the aforementioned delicacy. Chip shops from Ballymacarrett to Ballymena gave thanks for the plug...
D is for Deal
Otherwise known as A Fresh Start and still intact at time of going to press in which Sinn Féin swallowed hard over Welfare Reform; the DUP swallowed hard over the IRA; and victims found the whole thing impossible to swallow because they got left out. But at least Stormont was saved. Again.
E is for Exit
The list of well known MLAs who have gone or will go before next year's Assembly election grows by the week. Some willingly, others less so. It is lead by Peter Robinson and includes other notables such as Anna Lo, John Dallat, Pat Ramsey, Phil Flanagan and Stephen Moutray. The electorate will be lying in wait for others meaning the Assembly benches will look very different after next May.
F is for Foster
Not the first leader of Unionism to come from Fermanagh but certainly the first female Fermanagh leader. And while we're at it, she's also the first Church of Ireland-attending, former Ulster Unionist, to lead the DUP. Not that its had many leaders. In fact, so successful has Arlene Foster's immersion in the DUP been that none of those things have seemed to matter for a very long time. A fairytale ending to a year in which she also brought us the fantasy budget.
G is for General Election
In which unionists discovered that when they work together they're more likely to win at the polls. Their pact saw off Sinn Féin in Fermanagh South Tyrone, a constituency many thought would never have a unionist MP again. But the fact that it was required to defeat Alliance in one of Northern Ireland's most heavily unionist constituencies, East Belfast, was seen by many as a hollow victory. Don't tell that to Peter Robinson, however. Or for that matter Gavin Robinson.
H is for Hokey Cokey
The old dance was given a Stormont twist becoming "put your Simon Hamilton/Michelle McIlveen/Mervyn Storey/Jonathan Bell in.....put your Simon Hamilton/Michelle McIlveen/Mervyn Storey/Jonathan Bell out.....etc." The DUP certainly managed to shake it all about with their rolling ministerial resignations. Problem was it seemed to put the party out of step with almost everyone, especially those who thought the Health Minister would have been better employed at his desk during a continuing health crisis.
I is for IRA
(see Army Council)
J is for Jamie Bryson
His 15 minutes were supposed to be over long ago. But boy, were we wrong. Long after the flag protest, well, flagged, he was back at the centre of one of the biggest political stories of the year. He began making a series of allegations which ended with him making an explosive appearance before the Assembly's Finance committee during which he alleged Peter Robinson stood to benefit from the sale of NAMA's Northern Ireland portfolio. Mr Robinson strongly denied it. No evidence has yet been produced to show any politician or others named by Mr Bryson were to benefit.
K is for Kinahan
As if being the cousin of Chris De Burgh and living in a castle wasn't enough for him, this MLA/art dealer and former soldier, wanted to be an MP as well. And in what was possibly the shock general election result in Northern Ireland he managed to topple the DUP's William McCrea in South Antrim. Doesn't make "Lady In Red" any more acceptable, however.
L is for Lesbians
What not to do when you're already in trouble over remarks you claim you didn't make over same sex couples and child abuse? Well, don't have a row with a lesbian couple in Rathfriland that's what. Having already had to issue one apology for whatever he did or didn't say at a hustings event, the then Health Minister Jim Wells went canvassing in deepest Co Down when he came across a Lesbian couple and was allegedly critical of their lifestyle. He later returned to try to apologise and was rebuffed. Two days later he had resigned saying he wanted to spend time caring for his wife who had suffered a stroke.
M is for Monday
"Oh Monday morning, you gave me no warning of what was to be...." goes the song which just about covered the events of Monday, March 9. The Stormont House Agreement was agreed and the DUP and Sinn Féin were getting on famously. Then Sinn Féin announced they were going to vote against the Welfare Bill, accusing the DUP of trying to implement Tory cuts to benefits by subterfuge. Suddenly "I Don't Like Mondays" was everyone's preferred tune. What was needed was (another) Fresh Start....
N is for NAMA
See J is for Jamie and W is for Wallace
O is for Osborne
Like a bride (or groom) left jilted at the altar, the Northern Ireland Executive waited for the Chancellor to reveal how he was going to proceed with his devious plan to cut tax credits after the House of Lords sent him back to think again. And think again he did... by scrapping the whole idea. To the surprise of the Executive which had set aside £240 million from other departments to deal with the problem. Ministers now have a different problem - how to reallocate all that money. They couldn't fall out over something like that. Could they?
P is for Pengelly
A few months ago Emma Pengelly was a special adviser in the office of the first minister. Today she's one of Northern Ireland's best known politicians. The political equivalent of a debut single going straight in at Number One (OK, not quite Number One but stick with it) in late September she was co-opted to replace the retiring Jimmy Spratt in south Belfast. The bitter pill of almost halving her salary to do so was offset by a £45,000 severance pay-off from which she later said she would spend a "considerable amount" on her constituency work. A month later she was made a junior minister where her pay rose to £60,000. Along the way some noses were put out of joint, notably Ruth Patterson's. She was subsequently expelled for speaking out. Next May Ms Pengelly must try to persuade the voters of South Belfast this was all a good idea. One to watch.
Q is for Queen
As in God Save the. Not an anthem normally played in the presence of Martin McGuinness and other Sinn Féin members. But that's what happened when the Assembly's Sinn Féin Speaker Mitchel McLaughlin held a remembrance event in Stormont's Great Hall. It wasn't supposed to feature but the TUV press officer Sammy Morrison decided it should and sung it, quickly joined by other unionists. Mr McGuinness got to his feet. The Ulster Unionist leader Mike Nesbitt apologised to him for what happened but later said the Anthem should always be an official part of the event. Sinn Féin called the whole affair a stunt.
R is for Redner
That's Belfast for blushing because you've humiliated yourself and if it's good enough for the culture minister it is good enough for us. "I'm actually glad to see you taking a redner" goes into Hansard as Stormont's put down of the year. It was Carál Ní Chuilín's retort to Nelson McCausland when he asked a question she didn't like. In return, he looked scunnered as they say in his beloved Ulster Scots.
S is for SDLP
The other fresh start agreed this year was the replacement of 66-year-old Alasdair McDonnell with 32-year-old Colum Eastwood as the SDLP's youngest leader. Except it wasn't agreed at all and led to the first ever challenge to a sitting leader in the party's history. Eastwood won comfortably which was a major shock to Dr McDonnell who had confidently predicted he would see off the insurrection. All the Foyle MLA has to do now is succeed where everyone after John Hume has failed and revive the fortunes of a party which has fallen far behind Sinn Féin in the battle for nationalist votes.
T is for Tricolour
Where would we be without a flag row? Hard to say since we always have one. Except this year's was a first, courtesy of whoever decided to fly the Irish Tricolour from one of the flagpoles above Parliament Buildings at Stormont. It was there for only eight minutes and but for a sharp eyed member of the public with a camera phone may have gone unnoticed. Cue separate investigations by the Stormont authorities and the PSNI. Martin McGuinness called it "much ado about nothing". Unionists didn't agree.
U is for the Ulster Unionist party
Leaving the Executive after the murder of Kevin McGuigan was the easy part. Making a cogent argument for getting back in (or not) after the Assembly election may be harder. It's also an election which will tell whether the party's Westminster result was really a fresh start or a false start. Mike Nesbitt is on a roll. He needs gains and seats for it to continue.
V is for Victims
No Fresh Start for them because agreement could not be reached.
W is for Wallace
As in Mick. The Irish TD with the flowing blonde locks and a fondness for pink claimed in the Dáil that a Northern Ireland politician was to have benefitted from NI's biggest ever property sale, courtesy of the Republic's National Asset Management Agency. Having lit the blue touch paper, he didn't stand well back but made a series of other allegations. And so began a chain of events which eventually saw First Minister Peter Robinson appearing before a Stormont committee to deny he was the one after subsequent claims by the Loyalist blogger Jamie Bryson. This story can't possibly get any more bizarre. Can it?
X is for X-rated
Irish Foreign Minister Charlie Flanagan made an apparent reference to a four-letter word in an exchange on social media. In his New Year message he tweeted that 2015 offered the Republic the choice of "constitutional politics or cult politics". A Sinn Féin TD responded by posting an image of the Blueshirts, a pre-cursor to Fine Gael adding "Hopefully cult politics doesn't make a comeback." Another user suggested that the tweet had been misspelled, to which the minister replied: "yep left out the 'n'". He apologised.
Y is for Yule
The big man with the white beard and the sack was in danger of being usurped in Northern Ireland by the politicians who were trying to avoid the sack. For two years they had talked up to - and even through - Christmas. But not this year. The deal done in November - even if it should have been concluded in October.
Z is for zero
The number of challengers Arlene Foster faced to lead the DUP. Sammy Wilson might have done so if he hadn't backed Nigel Dodds who then withdrew and backed Arlene Foster.