Londonderry, Bishop Street: Car destroyed after oxygen tank explodes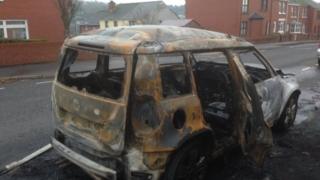 A grandfather and grandson say they had a lucky escape after an oxygen tank caught fire and exploded inside their car in Londonderry.
The car was destroyed in the incident which happened in Bishop Street on Wednesday evening.
The Northern Ireland Fire and Rescue Service are treating the fire as accidental.
Conor Morrow said it was a terrifying experience for himself and his grandfather Odhran.
Mr Morrow had switched on Odhran's oxygen tank to help him walk from the car to his home in Bishop Street, but it ignited inside the vehicle, burning his hand as he pushed his grandfather clear of the flames.
"When I turned it on, I sat it on top of where the seat is and I always turn it to number three which is the amount of oxygen he needs, litres per minute, and when I opened the valve there was like a click and the next thing I knew you could hear the air gushing out of it," he said.
"Fire started shooting out of it and I ran around the back of the car opened the passenger door and pushed my grandfather out of the car to get him away from the car.
"The car just went up, it was mad how quick it went up."