Syrian refugees: PSNI team to support refugee arrivals into Belfast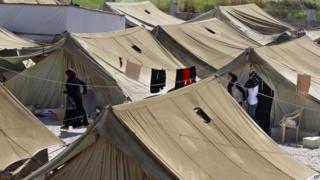 A special operation team set up by the Police Service of Northern Ireland (PSNI) will manage the arrival of 11 Syrian refugee families on 15 December.
The Department for Social Development has confirmed that a total of 51 refugees will arrive in Belfast from Lebanon, under the Vulnerable Persons Relocations Scheme.
Eleven of them are children under the age of five, including a baby.
The PSNI team will also investigate any crimes against the Muslim community.
The Syrian families will be housed in the private rental sector until alternative arrangements are made.
This is the first time Northern Ireland has participated in a refugee resettlement program.
Plans
Muslims and Christians are among those due to arrive in mid-December.
The first group will be settled in the Belfast area.
The second group of refugees will arrive in the first quarter of 2016 and will be settled in the north west.
Expansion
Prime Minister David Cameron announced the expansion of the Vulnerable Persons Relocation Scheme on 7 September.
The scheme will resettle up to 20,000 Syrian refugees across the UK over the next five years.
Refugees from countries neighbouring Syria will be resettled under the scheme, mostly Turkey, Jordan and Lebanon.
It does not extend to those who seek asylum in Europe or countries like Libya.
---
Vulnerable Persons Relocation Scheme
All of the "paperwork" is completed before the refugees arrive.
It prioritises women and children at risk, people in need of medical attention and survivors of torture and violence.
All refugees settled under the scheme have undergone a two-step security screening process.
People under the scheme will have access to housing, medical care and education, and they can work.
The Home Office will provide funding of at least £10,000 per refugee for the first year.
Refugees taken into the UK under the scheme will be granted five years' humanitarian protection which includes access to public funds, the labour market and the possibility of family reunion, if a person was separated from their partner or child when leaving their country.
After those five years they can apply to settle in the UK.
---