Rare Ponsonby Staples sketch on display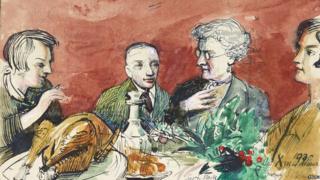 A rare Christmas watercolour sketch by the County Tyrone artist Sir Robert Ponsonby Staples, is now on display.
The Public Records of Northern Ireland (PRONI) is displaying the work, which dates back to 1930. The artist documented the Christmas scene in his diary.
Sir Ponsonby Staples, 12th baronet of Lissan and Faughanvale County Tyrone, is known for his portrait work.
His subjects include Oscar Wilde, Sir Edward Carson and Sarah Bernhardt.
Lorraine Bourke from PRONI, said Sir Ponsonby Staples' is known as an "honest chronicler of human life".
"I love this sketch of his family and friends for the way it captures the personalities of those gathered around their Christmas dinner," she said.
The artist's estate and family papers are held in PRONI.
Fun
"His diaries and papers show him to be intelligent, witty and possessed with a great sense of fun," Ms Bourke said.
The sketch shows Ponsonby Staples' family sitting in Lissan House, an estate which still displays some of the artist's work.
Dr Neil Watt, property manager of Lissan House and Demesne said: "Sir Robert loved Christmas here, and many of his most accomplished paintings show the family and the house in winter."