Same-sex marriage 'decision for Stormont', says NI attorney general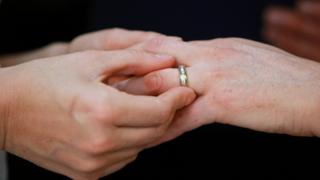 Same-sex marriage in Northern Ireland is a matter for Stormont to decide on, the attorney general has told the High Court in Belfast.
John Larkin QC said it was an issue of "pure social policy".
He was addressing a hearing in the case of a gay couple married in England last year, who want the court to declare that their marriage is fully constituted throughout the UK.
NI is the only part of the UK and Ireland that bans same-sex marriage.
'Transferred matter'
Last month, Stormont voted in favour of changing the law for the first time.
However, the Democratic Unionist Party blocked it by deploying a mechanism requiring the proposal to achieve a cross-community majority.
The two men's marriage currently has no legal recognition in their native Northern Ireland, and they claim that being limited to civil partnership status amounts to unlawful discrimination.
As the case resumed at the High Court on Tuesday, the judge asked if the same legal position should apply throughout the UK.
The attorney general replied: "No, it's a matter of pure social policy... being a transferred matter, it's for the devolved administration and the executive."
Mr Larkin said the Marriage (Same-Sex Couples) Act that became law in England and Wales in 2013 was clear, irrespective of how long a couple spend married in the rest of the UK.
"It doesn't matter, this is a general provision under which every same-sex marriage is for the purpose of the law in Northern Ireland treated as a civil partnership," he said.
The case continues.