Unite leads anti-austerity rallies at Sinn Féin and DUP offices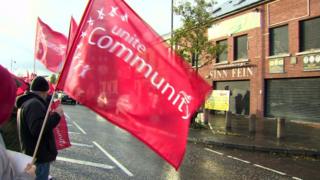 Protests against the government's austerity measures have been held outside a number of Democratic Unionist Party (DUP) and Sinn Féin offices.
The protests at Belfast's Shankill and Falls roads, Londonderry, Ballymoney in County Antrim and Newry in County Down were arranged by the trade union Unite.
Unite's Albert Hewitt said there was concern over the "devastating impact [of] cuts to social welfare" funds.
He said protesters also opposed the recent Fresh Start political deal.
Cuts
Earlier this month, the British and Irish governments and Northern Ireland's two largest parties reached an agreement on welfare reform and other issues after 10 weeks of talks.
"The recent deal between the parties ties the hands of the Northern Ireland Executive in the face of further and deeper Tory austerity cuts in the future," Mr Hewitt said.
He was also critical of plans to reduce corporation tax in Northern Ireland to 12.5%.
"No one knows just how much this will cost, but we can be certain that this will mean hundreds of millions of pounds of further cuts to public expenditure budgets at a time we cannot afford them," he said.
Priority
A Sinn Féin spokesman said the party supported trade unions in their "campaign against Tory austerity policies".
But he added: "The focus and energy of protests should be directed at those directly responsible for austerity, the Tory government in London."
The DUP defended the Fresh Start agreement, saying the party's "number one priority" was to "bring jobs to Northern Ireland".
"Lower corporation and the Fresh Start agreement will give us the tools to do that," a party spokesman said.