Euro 2016: Marc Wilson's uncle aids recognition of Republic of Ireland and Northern Ireland success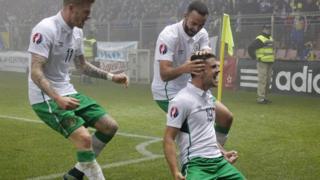 The uncle of a Republic of Ireland footballer, born in Northern Ireland, has expressed his delight at getting a council motion passed that recognises both teams' success in qualifying for the Euro 2016 finals.
Stoke City player Marc Wilson is the nephew of SDLP councillor Joe Nelson.
Mr Nelson proposed the motion at Armagh Banbridge & Craigavon Council on Monday night.
An earlier DUP motion recognising just the Northern Ireland team was amended.
The motion that was passed featuring both teams, "will investigate what best way to celebrate this momentous feat, with any events to include players and staff, particularly those from or living within the Armagh City, Banbridge and Craigavon Borough Council area, if possible".
"We have an all-Ireland rugby team, we can't have an all-Ireland football team under Fifa rules, but if both have qualified we need to recognise that," Mr Nelson said.
"The argument the DUP used was that this was a unique situation as it was the first time Northern Ireland had qualified for a Euro 2016 finals, but that to me is an extremely weak argument.
"Marc, my nephew, was born and brought up in Aghagallon outside Lurgan, so it was important to retain that element of including players and staff, particularly those living in the council area."
Marc Wilson played for Northern Ireland at under-15 and under-17 level before switching to the Republic of Ireland.
Under a Fifa ruling, players who have represented either Northern Ireland or the Republic of Ireland can switch their allegiance until they make an appearance in a competitive senior game.
The motion that was passed also says that "in preparation for Euro 2016, this council will investigate the possibility of showing games involving Northern Ireland and Republic of Ireland live on large screens at key locations throughout the borough".
The original DUP motion related to the screening of only the Northern Ireland games.
'Stunt'
DUP councillor Philip Moutray, who brought forward the original motion, said he did not accept the SDLP amendment.
"My motion was to highlight the unique achievement that it was Northern Ireland's first qualification for a Euro 2016 finals and also their first major tournament since 1986," he added.
"I believe it was a stunt by the SDLP to take away from Northern Ireland's achievement, for the Republic of Ireland it is business as usual in qualifying for a major tournament.
"It will not deter us from celebrating Northern Ireland's achievement and looking at ways of supporting them next year."
Mr Moutray said he would not object to Republic of Ireland games being shown on large screens in the same way he would not object to other teams with supporters based in Northern Ireland having their games broadcast in such a way.
Elsewhere, a plan to recognise Northern Ireland and the Republic of Ireland's Euro 2016 qualification with a joint official dinner at Belfast City Hall has proved controversial.
SDLP councillor Declan Boyle is set to bring forward the proposal at a full meeting of Belfast City Council next week.
He told the Belfast Telegraph he would be surprised if anyone "could vote against it".
But the move is proving hard to digest for some unionists.
DUP councillor Brian Kingston has said he did not believe his party would support the motion.
Ulster Unionist councillor Jim Rodgers said his party would have to discuss the matter before making a decision on how it was going to vote.