Kainos makes pre-tax profit of £6.8m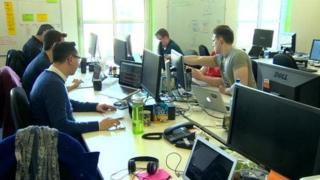 The Belfast-based IT firm, Kainos, made a pre-tax profit of £6.8m in the six months to September.
That was achieved on a turnover of £37m, which is up by almost 30% compared to the previous six months.
These are the company's first results since it floated on the stock market in July.
The firm said more than a third of employees bought shares at the time of the flotation.
The company now employs almost 800 people and recently opened sales offices in Boston and the Netherlands.
Kainos specialises in writing and managing the software for a range of public bodies.
It has recently won contracts with the Office for National Statistics and the Department for Communities and Local Government.
Demand
A note in the accounts states that in major government departments "technology investment has resumed following the election".
Brendan Mooney, Kainos chief executive said, it had been a "solid performance across the group" with increasing levels of demand across each of the operating divisions.
He added that sales bookings in the period include a number of multi-year resourcing frameworks in government and the sales pipeline "continues to strengthen".