Twinbrook: Man and woman arrested in dissident republican probe after house search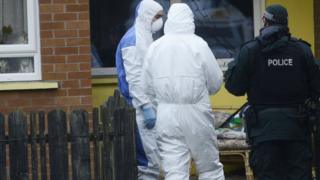 Two people have been arrested by detectives investigating dissident republican activity after a security alert on the outskirts of west Belfast.
Suspicious items were found during a house search in Broom Close in Twinbrook on Sunday morning.
The items were examined by army bomb experts and have been removed for forensic examination.
A woman, 57, and a man, 44, have been arrested.
The man was arrested during a search of a property in the Glen Wood Walk area of Dunmurry on Sunday evening.
A number of items were removed for further forensic examination.
Earlier, the PSNI refused to comment on a Sinn Féin claim that a significant amount of explosives and munitions were found in the incident at Twinbrook.