Londonderry and Lisburn security alerts are hoaxes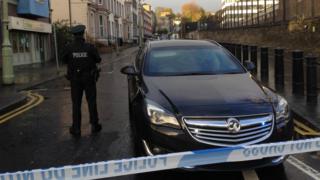 Security alerts in Londonderry and Lisburn have been declared hoaxes.
Police said "suspicious objects" had been found at Strand Road, in Londonderry, and at Magheralave Park South in Lisburn, County Antrim.
Residents have returned to their homes following the Lisburn and Derry alerts.
Police are investigating a possible link between the alert in Derry and a vehicle hijacking in Quarry Street at around 22:00 GMT on Thursday.
Further daylight searches were carried out near Strand Road Police Station on Friday morning.
The cordon has now been lifted.
PSNI District Commander Mark McEwan said: "The blame for disruption lies squarely with those responsible for leaving the object in Bayview Terrace and I am thankful to local people for their support and cooperation."
Sinn Fein MLA Raymond McCartney said: "I utterly condemn those behind this security alert.
"This has brought nothing but disruption to a main arterial route and in doing so has shown total disregard for the people of this city."
The security cordon in Lisburn was about 200 yards (180m) outside the gates of Thiepval barracks, according to a BBC eyewitness at the scene.